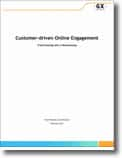 Monetizing Online Engagement: The New Rules of the Marketing Game
by GX Software
Discover how the market has accepted the new rules of the marketing game, giving the individual customer more control than ever. Trends like social media and co-creation, ongoing individualization and the splintering of the Internet bring new opportunities for the online marketer:
Click on the link below to download this complimentary guide:-
Monetizing Online Engagement: The New Rules of the Marketing Game

Items posted here are free at the time of posting. If you find they are no longer free, kindly notify us immediately through our contact form.