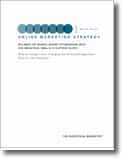 Reliance on Search Engine Optimization for Industrial SMBs is a Slippery Slope
by ThomasNet
What do Google's ever-changing search results algorithms mean for your industrial business? Google makes over 350 algorithm changes every year. With 97% of industrial buyers beginning their OEM, MRO and services purchasing process online, it is critical for SMB industrial companies to learn how to adapt their online marketing strategy–including their website, search engine marketing and search engine optimization–to minimize risks and maximize opportunities.
Click on the link below to download this complimentary guide:-
Reliance on Search Engine Optimization for Industrial SMBs is a Slippery Slope

Items posted here are free at the time of posting. If you find they are no longer free, kindly notify us immediately through our contact form.