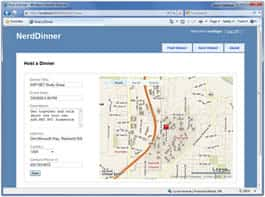 NerdDinner ASP.NET MVC Tutorial
by Scott Hanselman
This free tutorial / chapter-ebook is the first chapter from the ebook ASP.NET MVC 1.0, written by Scott Hanselman. This first chapter is a 185 page end-to-end tutorial that walks-through building a small, but complete, ASP.NET MVC application from scratch.  This 14MB PDF file is available for download totally free and is licensed under a Creative Commons Attribution No Derivatives license which means you can share, distribute, print, or hand it out to anyone.
The application the tutorial builds is called "NerdDinner". It provides an easy way for people to organize, host and search for new topic-based dinners online. For more information click on the link below to read the full description of this free chapter, get the PDF ebook and the full source code for this project.
Start programming with the link below:-
NerdDinner ASP.NET MVC Tutorial (PDF)
What's Next?
Subscribe Getfreebooks via email: