Tricks of Trade – Memories of a Rogue Lawyer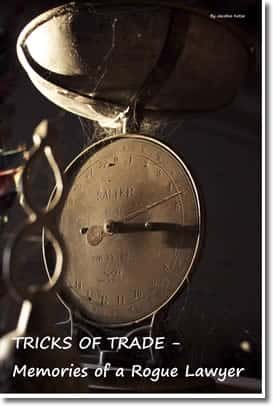 Tricks of Trade – Memories of a Rogue Lawyer
by Jacobus Kotze
The author said in his other book 'Mean Streets – Life in the Apartheid Police' that it is never good advice to see a lawyer for they are only good at taking your money and give long boring explanations on why you do not see tangible results for your case. It cannot be denied that hard working honest folk is scammed out of money every day and especially foreigners in Africa. This book offers an unusual glimpse into that shady world. What you read here is not fiction but based on the scams that happened to his clients during 15 years of seeking justice for them.
It is written in a practical first person style to explain the pitfalls and how to steer past it. No doubt most liberal law professors will find the views expressed disturbing. However, it will save you money if not your life for it includes practical advice on how to survive as a hostage in Africa and how to conduct business in West Africa. The forensic method created by the Author is applicable anywhere in the world and the only way to obtain tangible justice for the victims of crime & injustice.
Click on the link below to start downloading this free ebook:-
Tricks of Trade – Memories of a Rogue Lawyer – 200 pages, 2 MB (EPUB, Kindle, PDF, LRF, PDB)
Items posted here are free at the time of posting. If you find they are no longer free, kindly notify us immediately through our contact form.