Travellers' Rest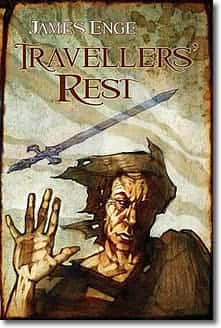 Travellers' Rest
by James Enge
The story you are about to read features James Enge's wondrous character, Morlock Ambrosius. Morlock is a swordsman, an exile, a hunchback, a drunk, and a wizard, though he himself would use the term 'Maker' and say he is a master of the two arts, Seeing and Making.
He is a modern descendant of the sword and sorcery adventurer that was birthed in the pages of Weird Tales magazine, and Enge himself has been favorably compared to Fritz Leiber, Jack Vance, David Eddings, Steven Brust, and, interestingly, Raymond Chandler. His tales of Morlock the Maker have appeared in Black Gate magazine, in the anthology Swords & Dark Magic, and elsewhere, and Morlock features in the novels Blood of Ambrose, This Crooked Way, and The Wolf Age.
Speaking of the novel The Wolf Age, Locus magazine wrote, 'One of Enge's great virtues as a writer is weirdness-he's not afraid to do the unexpected, and his imagination is formidable. But there's an underlying emotional power here, too. The author excels at depicting the bonds of friendship, the pain of betrayal, and the tragedy of well-laid plans going awry, and that emotional payload is what makes this novel into more than just an entertaining adventure story about a guy with a magical sword who fights monsters.
'Which is not to say that there isn't a magic sword, because there is, and where Morlock goes, rest assured there are always plenty of monsters. This story, 'travellers' Rest,' is no exception. Chronologically, it takes place some years before the events of the novels. If you are new to Morlock, it should make a fine introduction to Enge's creation, and if you are not, you will be pleased to see the return of at least one old friend. Either way, we hope that you enjoy it.
Click on the link below to start downloading this free ebook:-
Travellers' Rest – 29 pages, 3.4 MB (EPUB)
Items posted here are free at the time of posting. If you find they are no longer free, kindly notify us immediately through our contact form.