The Rising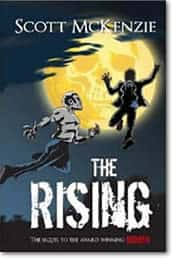 The Rising
by Scott McKenzie
The Rising is the sequel to Rebirth, a horror thriller novel written by Scott McKenzie and published in blog form in 2007. Together they make up parts one and two of an action-packed series of vampire novels that adds a fresh twist to the conventions of an established genre.
Detective Tom Ryder's world is turned upside down when he discovers that a war has been raging between humans and vampires for hundreds of years. He finds himself caught between the two sides and a horrifying turn of events forces him to take action for the sake of his future and the future of every man, woman and child in the world.
Click on the link below to start downloading this free ebook:-
The Rising – 119 Chapters (eSerial / Webnovel – HTML)
Items posted here are free at the time of posting. If you find they are no longer free, kindly notify us immediately through our contact form.