The Office Worker's Guide to a USB Thumb Drive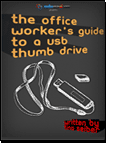 The Office Worker's Guide to a USB Thumb Drive
This 43 page guide is written with a broad readership in mind, it is equally suited for the newbie, as well as the more experienced user. The novice will appreciate the detailed explanations and instructions, while the old hand will discover many useful tools and tricks on the way. A flash drive can be a simple vehicle to transfer data from one computer to another, but with the right tools it can be transformed into a powerful tool helping you store and encrypt documents, run applications and finally when your computer slows down because it needs more RAM, you can extend the virtual memory to your flash drive and speed up your system; all of which will be explained in this guide.
Also with this free guide you will also receive daily updates on new cool websites and programs in your email for free courtesy of MakeUseOf.
Click on the link below to receive your complimentary guide now:-
The Office Worker's Guide to a USB Thumb Drive