The Ether Dispute: Revisiting Einstein's argument that space is a physical substance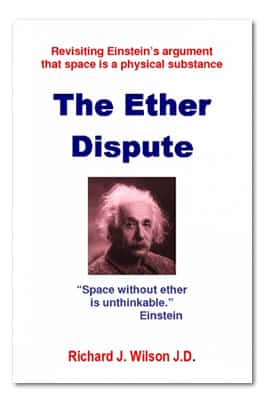 The Ether Dispute: Revisiting Einstein's argument that space is a physical substance
by Richard Wilson
There's an unresolved dispute over the physical nature of space. It occurs because of what Bacon called our 'dull and deceptive human senses'. On one hand, space appears empty. This led biblical and modern cosmologists to conclude space is an 'empty vacuum.' But, when astrophysicists from Newton to Einstein studied space, they found it exhibits physical behaviors – i.e. it carries light and heat. This led them to conclude space is an invisible substance called 'the ether.' The author explores the ether dispute, and the pressing need to resolve it scientifically.
Click on the link below to start downloading this free ebook:-
The Ether Dispute: Revisiting Einstein's argument that space is a physical substance – (PDF)
Items posted here are free at the time of posting. If you find they are no longer free, kindly notify us immediately through our contact form.
Life Science Leader: Life Science Leader is designed to not only inform readers of best practices that are occurring throughout the life cycle of the industry, but motivate them to implement those best practices in their own businesses. The editorial discusses issues that Life Science executives in the biopharm, traditional pharma, R&D, and contract manufacturing fields have in common, including business process management, information technology, regulatory compliance, and finance/business development.
American Biotechnology Laboratory: American Biotechnology Laboratory will help keep you abreast of the latest developments in life science instrumentation and apparatus, bioanalytical chemistry, kits, and biologicals.