The Cure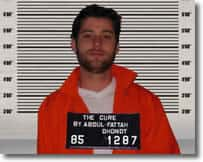 The Cure
by Abdul-Fattah Dhondt
Dr. Alexander Leach is a promising psychology teacher at Brown university who is starting a new experiment. In cooperation with several local prisons, he attempts to find a treatment for anti-social personality disorder. Dr. Leach promises inmates who cooperate to speak on their behalf at their next parole hearing.
Alex has the theory all worked out, but reality proves to be much more challenging. With his personal life falling to parts, sociopath inmates not genuinely cooperating and boycott from a very unexpected corner, it seem Alex bit off more than he could chew. Then just as he was about to throw in the towel, his most unpromising participant starts making an inexplicable progress. But again, things aren't going as Alex would have hoped…
Click on the link below to start downloading this free ebook:-
The Cure – 39 pages (PDF)
Items posted here are free at the time of posting. If you find they are no longer free, kindly notify us immediately through our contact form.