Stone Heart: Heart of the Staff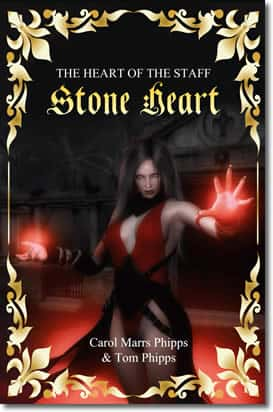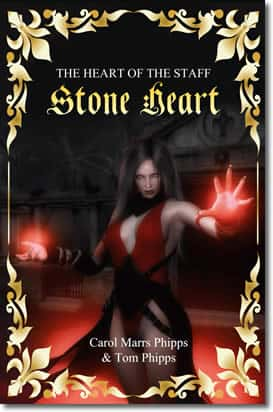 Stone Heart: Heart of the Staff
by Carol Marrs Phipps & Tom Phipps
A great evil awakens to shatter Niarg's peaceful world.
In her remote island keep off the shores of Head, the fearsome sorceress Demonica at last learns from her unfaithful husband Yann-Ber the whereabouts of the long lost Staff of Power. He crawls before her to tell her that it has turned up in the hands of her granddaughter Spitemorta, the new queen of Goll, hoping to buy his release from her horrid curse of boils. She is ecstatic about the Staff, but will never forgive his faithlessness. He will be released, all right. He will get to die in one year, after the most excruciating boils yet to come.
Demonica leaves for Goll at once. She arranges an accident for the nanny of Spitemorta's son, becomes the new nanny herself and offers to teach Spitemorta how to develop her considerable powers. Spitemorta accepts at once, thereby uniting the two most dangerous sorceresses of the age, determined to conquer the world. Their first step is to find the First Wizard's Stone Heart which would make the Staff the most powerful tool of all time.
Click on the link below to start downloading this free ebook:-
Stone Heart: Heart of the Staff – 560 pages, 2.52 MB (HTML, Kindle (MOBI), EPUB, PDF, RTF, LRF, PDB, TXT)
Items posted here are free at the time of posting. If you find they are no longer free, kindly notify us immediately through our contact form.