Sci-Fi Stories and Comics by Madison Bruffy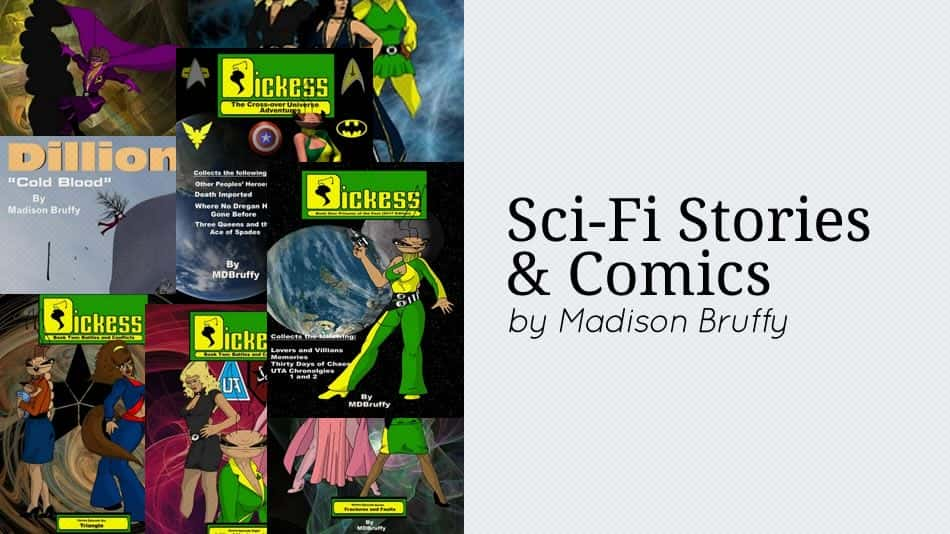 Madison Bruffy or better known as mdbruffy at Deviantart, is a writer and a comic creator, focusing more towards the Science fiction genre. A unique 3D graphic designer himself, expect to see most of his comic work to be in such form and format. He has posted a plethora of sci-fi stories which you can check out below, or through his Deviantart page, available in the popular PDF format. No EPUB though, but feel free to flood his inbox with this request and we'll just wait and see :D.
Don't forget to support his work, leave your comments, spread and share his work on social media platforms, and if you're a Deviantart user yourself, reward him with badges, points or anything you can provide. Besides the number of works listed below, you may also click here to browse through his various works which have been posted here at GetFreeEbooks.
Click on the ebook's cover to download.
The following are standalone, individual stories.
Dickess: The 1-2 Exchange
The 1-2 Exchange :Following the events in 'Thirty Days of Chaos', the meteor creature's presence has lasting effects on all concerned as the Baron plots his revenge against Arrow, leaving CJ and Con to deal with a reality gone mad.
Dickess: Ms Justice
Ms. Justice: Fifteen years ago, she was Marla Carpenter until circumstances forced her to begin wearing the cloak and power pack of Ms. Justice. On her last case, she took on an alien named Morlakan. She defeated the beast and lost her sanity as well.
Dickess: Triangle
Triangle: April and Migon are drawn into a case that could end in disaster. On the planet Wayison, Palace plotting and back-stabbing threaten to send Wayison's future crashing down in ruins.
Dickess: Fractures and Faults
Fractures and Faults : On Dragoon, the Planetary Council is diverting the Academy's budget into a secret project. What is it and how dangerous is it? On Wayison, a rescue is staged, sides are chosen and Wayison erupts into civil war!
Dickess: A Mix of Murder and War
A Mix of Murder and War: CJ is hired to solve the murder of a bio-researcher. But who killed him? His co-worker? His lover? HIs mistress? Or someone else? On Wayison, the civil war comes to a climax- but who won?
Dillion 2: Cold Blood
Cold Blood – Dillion and Megan arrive on Earth and find themselves knee-deep in both snow and murder. Die and Seek – The crew of the Defender decide on some time off and settle for some fun in the sun, only to have a body dropped in their lap.
The following are 'Collected Editions' of stories.
Dickess: The Cross-over Universe Adventures
All of the cross-over stories now in one file – Other Peoples' Heroes, Death Imported, Where No Dregan Has Gone Before & Three Queens and the Ace of Spades.
Dickess Book One: Prisoner of the Past (2017 Edition)
The first three stories in the series, plus both Chronologies – Lovers and Villains, Memories, Thirty Days of Chaos, Birth of an Alliance & The Pre-Alliance Years.
Dickess Book Two: Battles and Conflicts
The collected stories in this volume are – The 1-2 Exchange, Ms. Justice, Triangle, Fractures and Faults & A Mix of Murder and War.