Practical Data Dictionary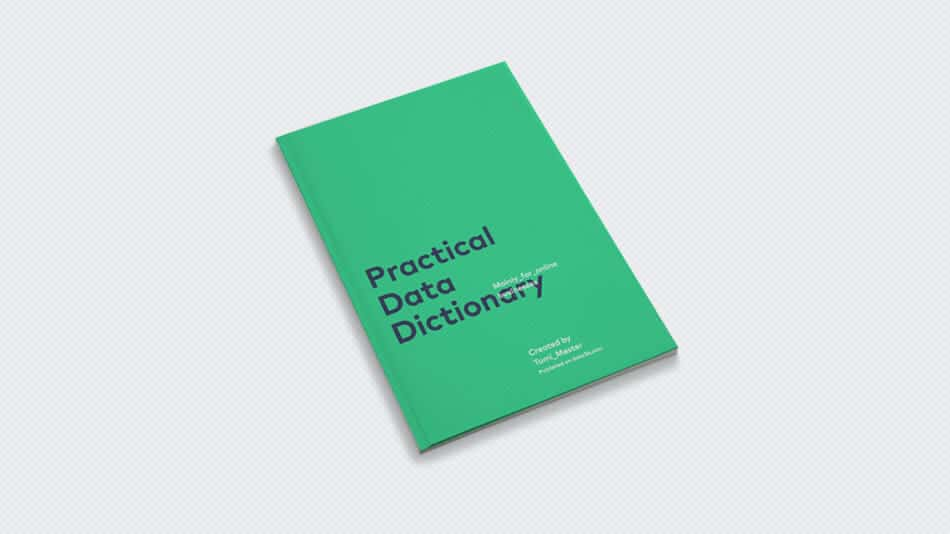 Practical Data Dictionary is a free 54 pages handbook, which unifies the most used data expressions and places them within a clear framework. Actually it became a little bit more than a dictionary. It gives you a lot of examples and case studies, and explains why, how and what you should do, when you are dealing with data. I think it helps a lot for online businesses to start being data-driven, or take it to a next level.
When a company begins to use data, they usually read a bunch of articles and books on the subject. In good cases, they hire 1-2-3 data analysts and set up a data infrastructure and/or a data strategy. Then slowly everyone starts to use the resulting data in the company and an awesome data-driven organization is born. Hooray!
But along the way there will be some disorder caused by the use of materials pulled from various sources, and people's different know-how. Because Data Science is not a written in a stone kind of science, it's not uncommon for the same concept to be known under another name in different places. What's even more crazy is that this is true the other way around as well: the same word can be used for many different concepts as well.
Working on different projects, Tomi realized, this issue became increasingly problematic. For this reason, I decided to create a dictionary which unifies such data expressions and places them within a clear framework. The main points were:-
consistency
simplicity, so not having to memorize 800 different types of users (created 8 categories for activity, and 5 for payment)
expressions for particular things should resemble each other as little as possible (not to have 3 different but similar-sounding categories, like Active User, Activated User, Re-activated user, etc.)
This is how Practical Data Dictionary came about, which Tomi will open-source as maybe others have also experienced these kinds of issues. He advices this booklet so everyone within the organization speaks the same language, and to communicate about data quickly without any misunderstanding.
Chapters
Activity-related events
User-types from an activity perspective
Payment-related events
User-types from a payment perspective
Summarizing what has been said
Analytics, metrics, KPI-s
Case studies