Pirates of the Narrow Seas I: The Sallee Rovers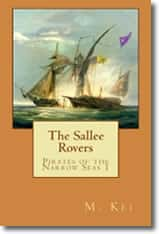 Pirates of the Narrow Seas I: The Sallee Rovers
by M. Kei
Lt. Peter Thorton of the 18th century British navy must struggle to come out gay, fight the Spanish, survive storms at sea, duels, kidnapping, and other adventures in his quest for true love and honor on the Narrow Seas. Swashbuckling adventure on the high seas by M. Kei, acclaimed poet and tall ship sailor.
Click on the link below to start downloading this free ebook:-
Pirates of the Narrow Seas I: The Sallee Rovers – 39 Chapters (HTML)
Items posted here are free at the time of posting. If you find they are no longer free, kindly notify us immediately through our contact form.