Other Sides: 12 Webfiction Tales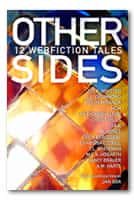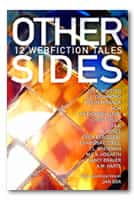 Other Sides: 12 Webfiction Tales
by Ergofiction
The advent of digital publishing has seen the rise of a new breed of writers: independent, experimental and unfettered by convention. This brand new anthology features a small sampling of these very writers, in a speculative fiction collection that will capture the imagination and dazzle the senses. The storytelling genius in this collection is most evidenced by its memorable characters: a young woman haunted by her ex-boyfriends sweater, time travelers with a suspicious interest in babies, a gender-changing alien desperate to heal a loved one In these stories, fourteen independent authors display the imagination, insight and wonderful originality that characterizes the unique world of online fiction.Featuring stories by Zoe E. Whitten, G.L. Drummond, MeiLin Miranda, MCM, Lyn Thorne-Alder & Chris Childs, Isa K., M. Jones, Erica Bercegeay & Charissa Cotrill, T.L. Whiteman, M.C.A. Hogarth, Nancy Brauer, and A.M. Harte, with an introduction by Jan Oda.This anthology is brought to you by Ergofiction magazine (https://www.ergofiction.com/), an ezine for online fictions fans.
Click on the link below to start downloading this free ebook:-
Other Sides: 12 Webfiction Tales – 104 pages, 810 KB (PDF, EPUB)
Items posted here are free at the time of posting. If you find they are no longer free, kindly notify us immediately through our contact form.