Name That Pet!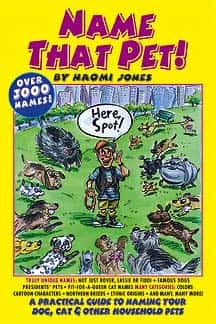 Name That Pet!
by Naomi Jones
https://namethatpet.com/
Name That Pet! is an animal/pet-naming reference book. It contains 22 chapters, which categorize names according to look (size/color), personality, breed origins, and pop-cultural references. It is informative in an educational context as well as a useful tool for personalizing a new household pet.
"Name That Pet!" is also the debut offering from author and retired canine behaviorist, Naomi Jones. This is the purrfect pet-naming book for any new pet acquisition. With chapters focusing on famous pets, most popular dog names, cartoon characters, and ethnic origins, you're sure to find that ideal name for your new furry family member!
Click on the link below to download this free ebook:-
Name That Pet! (PDF) or click here to visit the site.