Motion Mountain – The Adventure of Physics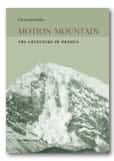 Motion Mountain – The Adventure of Physics
by Christoph Schiller
A modern introduction to physics,captivating, simple, with many colour pictures, animations and films, riddles and challenges.It covers mechanics, thermodynamics, relativity, quantum physics and modern attempts at unification.
Click on the link below to start downloading this free ebook:-
Motion Mountain – The Adventure of Physics – Over 2000 pages in 6 volumes, 156 MB (pdf)
Items posted here are free at the time of posting. If you find they are no longer free, kindly notify us immediately through our contact form.