Live Like a King or Queen for Pennies on the Dollar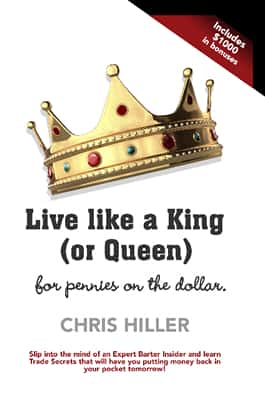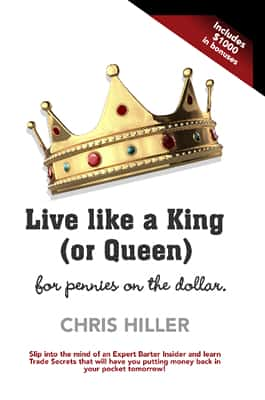 Live Like a King or Queen for Pennies on the Dollar
by Chris Hiller
Slip into the mind of an Expert Barter Insider and benefit from over 10 years of Barter experience. Learn the Trade Secrets that will have you putting money back in your pocket tomorrow!
Here's some of the immediate knowledge you will gain in this informative and entertaining read:
How to practically incorporate Barter into your business and personal life.
Specific things to look for (and what to avoid) from a prospective Barter company.
Various strategies to maximize your Barter dollars.
How to unleash out the REAL POWER behind Barter.
Advanced Barter techniques to really Live like a King or Queen
Click on the link below to download this free ebook:-
Live Like a King or Queen for Pennies on the Dollar (PDF) or (PRC – Mobipocket or Kindle).
PRC format for Mobipocket is still under testing stages, click here to report any irregularities.