I Should Have Told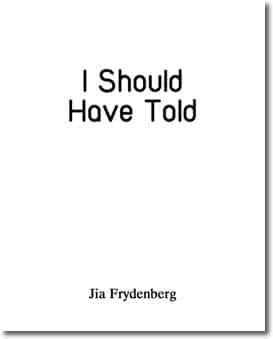 I Should Have Told
by Jia Frydenberg
She pushed the red phone button and sighed, smiling. Life could be worse than having an overprotective 'friend.' 'Let's not go analyze that right now,' she thought. 'save that for a better time.' Now it was time to batten down the hatches, bring inside anything that would get blown around, and do a final check on the moorings. It was just another winter storm, but with the churn of the week-long northeaster still roiling around the water's edge, a sudden increase from the southeast could do some serious damage.
Already the mercury was dropping precipitously. She glanced at the old barometer on the wall, which was heading below 1000 mb. It was famously unreliable. It had been stuck on 'sunny, fair' during the entire northeast gales the week before. Well, that was normal for the northeasterners of winter. No change in air pressure, but the winds would make a man piss on himself no matter which way he turned.
She grinned. And it had. But her grandfather's German barometer got one thing right: it knew when the wind back-hauled. She didn't need the marine forecast; a southeast blow was coming. A northeast is fierce but a southeasterner in the winter brings the monsters up from the deep. They would be catching strange fish for weeks afterwards, Gerd knew.
Click on the link below to read or download this free ebook:-
I Should Have Told – 15 chapters(Online)
Items posted here are free at the time of posting. If you find they are no longer free, kindly notify us immediately through our contact form.