126 Free Artificial Intelligence (AI) Courses, Ebooks, Videos and Papers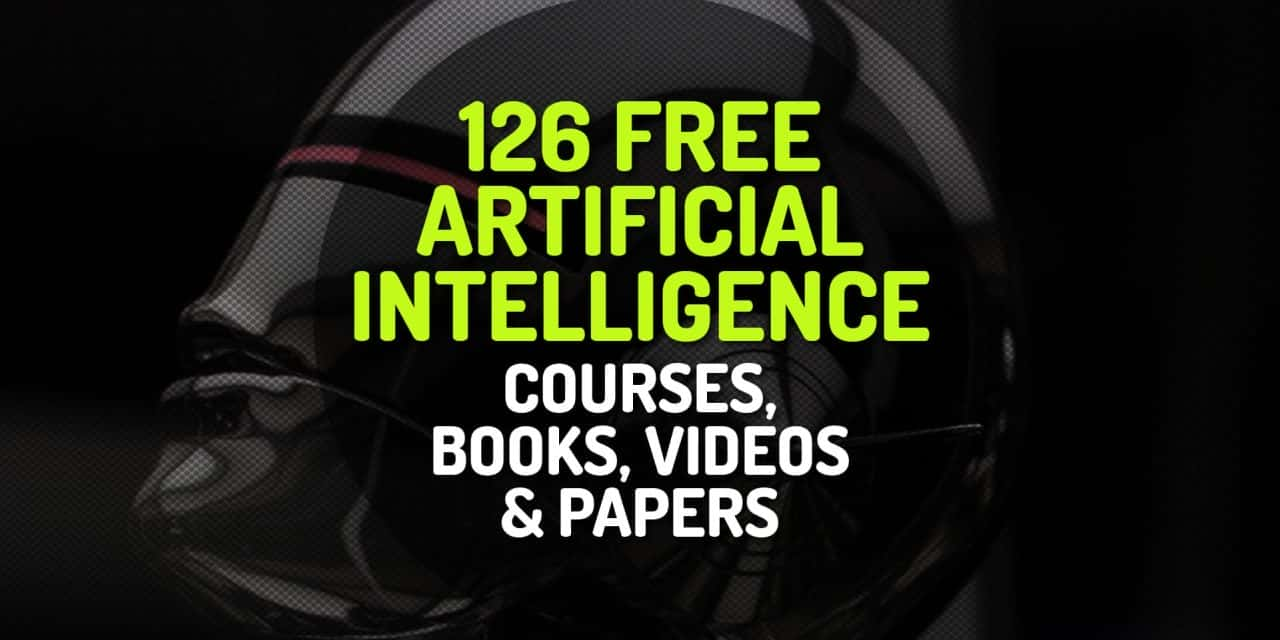 Artificial intelligence (AI)is the ability of a computer program or a machine to think and learn. It is also a field of study which tries to make computers "smart". They work on their own without being encoded with commands. The basic goal of AI is to enable computers and machines to perform intellectual tasks such as problem solving, decision making, perception, and understanding human communication. This means creating algorithms to classify, analyze, and draw predictions from data. It also involves acting on data, learning from new data, and improving over time.
Even if you don't have any prior experience in engineering, you can learn artificial intelligence from home and start applying your knowledge in practice, creating simple machine learning solutions and making first steps towards your new profession. Machine Learning is the subset of Artificial Intelligence (AI) that enables computers to learn and perform tasks they haven't been explicitly programmed to do.
This is a curated list of free Artificial Intelligence (AI) courses, ebooks, videos and papers pointing towards interesting directions and topics that you may be interested in. Some resources may be old, but still applicable to today's standards of AI implementations. We've also included some of our previous compilations of AI ebooks and resources, so feel free to check them out as well.
Past Compilations
Courses
Books
How Machine Learning Works
Mostafa Samir. Early access book that introduces machine learning from both practical and theoretical aspects in a non-threating way.
Programming
Philosophy
Life 3.0: Being Human in the Age of Artificial Intelligence
Max Tegmark, professor of Physics at MIT, discusses how Artificial Intelligence may affect crime, war, justice, jobs, society and our very sense of being human both in the near and far future.
Minds, Brains, And Programs
The 1980 paper by philospher John Searle that contains the famous 'Chinese Room' thought experiment. Probably the most famous attack on the notion of a Strong AI possessing a 'mind' or a 'consciousness', and interesting reading for those interested in the intersection of AI and philosophy of mind.
Free Content
Code
AIMACode
Source code for "Artificial Intelligence: A Modern Approach" in Common Lisp, Java, Python. More to come.
ExplainX
ExplainX is a fast, light-weight, and scalable explainable AI framework for data scientists to explain any black-box model to business stakeholders.
FARGonautica
Source code of Douglas Hosftadter's Fluid Concepts and Creative Analogies Ph.D. projects.
Videos
Learning
General
RNN structures
Word Vectors
Natural Language
Convolutional Neural Nets
Tutorials
Datasets
Journals
Organizations
Competitions
Newsletters
AI Digest
A weekly newsletter to keep up to date with AI, machine learning, and data science.
Misc
Watch videos about books, reading and writing. Expect weird, amazing, never known before facts and many more.
INTERNET / DIGITAL MARKETING HUB
Download free Internet Marketing Ebooks, comprehensive tips & tricks and informative infographics.