Dungeon Seeds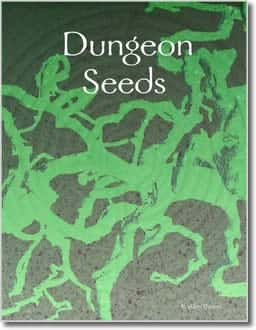 Dungeon Seeds
by K. Alex Rosen
In the land of Alceid, a pall of grave darkness has engulfed the land. Living dungeons erupt forth from the very earth itself, belching accursed monstrosities into the mortal world. One lone hero, the Promised One, has trained in the ways of the swordsman since his birth. Prophesy says that only he can deliver the world from the plague of the biolabyrinths. Then he falls down the stairs and dies. No one really liked him anyway. Torf Falconbridge is a seasoned Dungeon Hunter, who has been fighting the forces of evil for nearly twenty years. Monsters cower in fear at the sound of his name, and the very thought of his legendary holy sword. This is not his story, either. This is the tale of his teenage son, Rodis. He's cocky. He's arrogant. He's a pervert. He's a lunkhead. And he's our next best hope.
Click on the link below to start downloading this free ebook:-
Dungeon Seeds – 167 pages, 999.5 kB, (PDF)
Items posted here are free at the time of posting. If you find they are no longer free, kindly notify us immediately through our contact form.