Asa Kraiya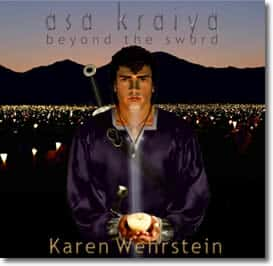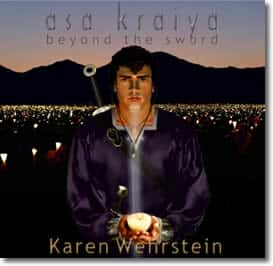 Asa Kraiya
by Karen Wehrstein
Having carved his way to the top of the post-tech world of the Fifth Millennium, Fourth Chevenga Shae-Arano-e has everything – power, accomplishment, love, and fame as the reputed greatest warrior in the world – except the prospect of long life. Shown by a childhood vision that he will die before the age of thirty, at twenty-eight he figures he's nearing the end.
But then, a brilliant healer with the gift of seeing the human aura reveals the way to escape that fate.
All Chevenga has to do is quit believing at heart that death is his due.
Oh, and hang up his sword.
For good.
Against the political backdrop of the reformed Empire of Arko and his doggedly-democratic homeland of Yeola-e, he makes his bid for longevity through a healing journey that turns out to be much more than he bargained for. Despised as a traitor by his former comrades-in-arms, rejected by his wife, hunted by assassins, haunted from the spirit world and subjected to public dissection of his deepest secrets by an official body that includes his worst political enemy, Chevenga faces his toughest battle ever: the internal one.
Click on the link below to read this free ebook online:-
Asa Kraiya – 213 Chapters (eSerial / Webnovel – HTML)
Items posted here are free at the time of posting. If you find they are no longer free, kindly notify us immediately through our contact form.