Anathema – Book 1 Of The Trivallyn Saga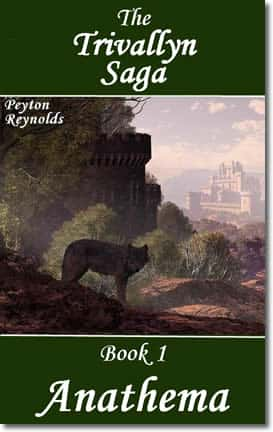 Anathema – Book 1 Of The Trivallyn Saga
by Peyton Reynolds
For nearly twenty years, the six Gods of Trivallyn have been silent and deaf to the prayers of their mortals. In their absence, the world has become ravaged by innumerable disasters such as ice storms, earthquakes, plague and typhoons. War is brewing and imminent across all the lands, and words forsaking the lost Gods are being whispered everywhere.
Kaymin Numont, prince and heir of the country of Dargis, a country suffering from flooding due to its ceaseless rains, returns from a mission that will undoubtedly incite war between his lands and the neighboring country of Corrado. Neither he nor his father, the king, favor the idea of battle, but both have come to believe it is now inevitable.
But then, Kaymin is come upon by a man – a very strange man who claims to be Terek, one of Trivallyn's lost Gods. His explanations for the absence of the Gods, as well as for all the disasters now occurring throughout Trivallyn, are horrifying. They also give name to the true force that is threatening their world, a force intent upon manipulating all of Trivallyn into its own destruction.
But before this threat can even be confronted, the remaining lost Gods must be freed. With their essences bound and hidden within Trivallyn's five outlying countries, Terek bids Kaymin to begin a quest that will locate and free these Gods who have been imprisoned for nearly twenty years.
Together with his royal wizard, Jian, Kaymin begins a journey that will lead them through foreign lands, political upheaval, unknown dangers, and surprising allies. The battle for Trivallyn has begun.
Click on the link below to start downloading this free ebook:-
Anathema – Book 1 Of The Trivallyn Saga – 106,124 words (EPUB, Kindle, MOBI, PDF, HTML, LRF, PDB, TXT)
Items posted here are free at the time of posting. If you find they are no longer free, kindly notify us immediately through our contact form.