Advances in Service Robotics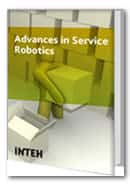 Advances in Service Robotics
by various authors, edited by Ho Seok Ahn
This book consists of 18 chapters about current research results of service robots. Topics covered include various kinds of service robots, development environments, architectures of service robots, Human-Robot Interaction, networks of service robots and basic researches such as SLAM, sensor network, etc. This book has some examples of the research activities on Service Robotics going on around the globe, but many chapters in this book concern advanced research on this area and cover interesting topics.
Click on the link below to start downloading this free ebook:-
Advances in Service Robotics – 57.1MB (PDF)
Items posted here are free at the time of posting. If you find they are no longer free, kindly notify us immediately through our contact form.