A New Pet in the Family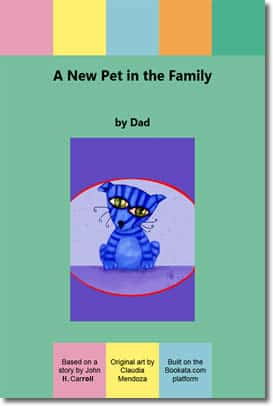 A New Pet in the Family
by John H. Carroll
Kids are often willing to promise anything in order to get a new pet. Parents should open their hearts to the warmth and companionship a pet can provide, but also be prepared to have a bumpy ride full of adventures; sometimes funny, sometimes not so much. Owning a pet is a serious endeavor and long term commitment. The decision should be wisely made with all family members included. To make bringing a pet into the family an exciting moment, the parent can take elements from the child's imagination and transport them into this charming story of love, transition and humor. Like in all Bookata books, the whole story can be personalized on the Bookata.com website. For this story, a person can go to the site and customize the child's and his or her sibling's gender, age, race, and name. And, of course, the pet: name, breed, color, etc. Original art by Claudia Mendoza. Based on a story by John H. Carroll.
Click on the link below to start downloading this free ebook:-
A New Pet in the Family – 6 pages, 974 KB (MOBI, EPUB, HTML, PDF, TXT, RTF, LRF, PDB, TXT)
Items posted here are free at the time of posting. If you find they are no longer free, kindly notify us immediately through our contact form.