A Dancing Bear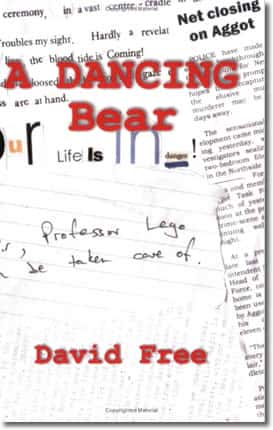 A Dancing Bear
by David Free
What if getting the girl meant becoming a terrorist wet boy?
On an unnamed university campus late in the 20th century, a young man named Fenton Bland joins a society of student Maoists in order to get near the girl he loves. But the girl turns out to belong to the chief Maoist – the uncouth, fat, and possibly dangerous Gus. And the Maoists turn out to harbour alarming aspirations in the field of revolutionary terror. And so Fenton, wearing a forcibly grown beard, finds himself propelled into a bizarre covert world of death lists, backyard bomb labs, untraceable handguns, and attempted wet jobs of distinctly varying quality – a world in which he must choose between losing the girl forever or else participating – perhaps very soon – in a successful terrorist atrocity. Along the way he must contend with a motley cast of characters, few of whom enjoy optimal grips on reality.
Click on the link below to start downloading this free ebook:-
A Dancing Bear – 4 parts, 30 Chapters (HTML), 328 pages, 1.3 MB (PDF, Kindle, iPhone) and Audio (MP3)
Items posted here are free at the time of posting. If you find they are no longer free, kindly notify us immediately through our contact form.