80AD – The Jewel of Asgard (Book 1)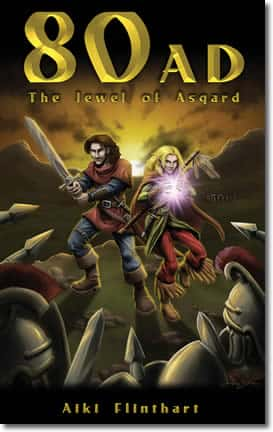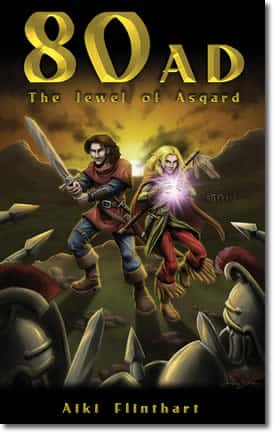 80AD – The Jewel of Asgard (Book 1)
by Aiki Flinthart
What happens when you take a pair of ordinary, miserable 14 year olds out of their ordinary, miserable lives and throw them into another world and another time? Chaos, fear, magic and excitement – that's what. When Phoenix and Jade somehow end up in the bodies of their own warrior Avatars in the online fantasy game, 80AD, they have to play the game through to get home. Do they have what it takes?
Take a very ordinary, very unhappy 14 year old boy, Phoenix. He's bored by school, hates his step-father, feels like he has no control over his life. In fact, the only things he does like are computer games and martial arts.
Add a smart, miserable 14 year old girl, Jade. She's the youngest of seven girls; teased and picked on; a misfit; her own mother doesn't get her. All she likes is books and botany.
Throw both these kids into a computer game – 80AD – AND into their avatar's bodies. Phoenix and Jade aren't 14 year old kids any longer. They're 17 year old warriors, confused and trapped in an ancient world of warfare, magic and death. They're stuck in 80AD Britain To Phoenix, it's fun – a gamer's dream come true. To Jade, it's a nightmare.
In order to get home, they have to play out Level One of 80AD. They have to find the Jewel of Asgard.
To do that, they must face murderous thieves, creatures of the Dywyllwch Brennau, uncanny powers of the Druids and the might of the invading Roman army.
Can they master their new bodies and survive in Iron Age Britain?
Can they beat the Romans to the Jewel and win Level One?
Will they make it home or will they be defeated by their arch-enemy, Feng Zhudai? If he wins, they are stuck in 80AD forever – but is that so bad?
Click on the link below to start downloading this free ebook:-
80AD – The Jewel of Asgard (Book 1) – 102 pages (HTML, Kindle, EPUB, PDF, RTF, TXT)
Items posted here are free at the time of posting. If you find they are no longer free, kindly notify us immediately through our contact form.