2051 – The Hawking Plan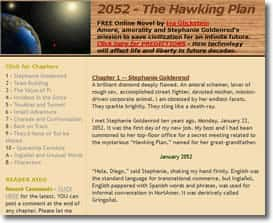 2051 – The Hawking Plan
by Ira Glickstein
Stephanie Goldenrod strives to save human life and civilization for an infinite future. Amorality and amore punctuate deep ethical and philosophical issues. Life, liberty and technology several decades in the future. A peaceful world. Dominated and ruled by transnational corporations. Reason trusted and religion suspect. A 'positive ID' regime where religion-based terrorism has been suppressed, along with virtually all anonymity and privacy. A post global warming world where humanity has been decimated by genetic engineering disasters. A population served by Intelligent Robotic Agents, certified intelligent at the average human level. A brilliant plan to spread human life and civilization far and wide into space as insurance against further disasters here on Earth.
Click on the link below to read this free eBook online:-
2051 – The Hawking Plan – 10 Chapters (eSerial / Webnovel – HTML)
Items posted here are free at the time of posting. If you find they are no longer free, kindly notify us immediately through our contact form.