2 Free Apps To Organize Your Ebooks

2 Free Apps To Organize Your Ebooks
Having countless ebooks drowning your computer is a messy thing (and we here at Getfreeebooks.com know exactly how it feels), and if this sounds familiar to you as well, then it's probably time that you should start organizing all your ebooks into a nice systematic manner, or at least have them catalogued so that they can be found easily. But before we get into the introduction of these 2 applications that will help you in such organizing activities, here are a couple of tips on how you can get all your ebooks organized into a mini library in your computer.
Nobody knows your computer better than yourself, so the first thing you need to do is to identify the directories / locations of your usual download locations. E.g. My Documents, Desktop, etc.
If you're messy as hell like us, then the search function should help you out. If you've been downloading PDF mostly, do a wildcard search for *.pdf and locate all the ebooks that you have and move them into a more centralized location in your hard drive. Change the search parameters accordingly based on your reading device. If you're a kindle user, probably *.azw, *.mobi or *.prc should do the trick.
Determine a good centralized location (as mentioned in point no 2). If you're a Desktop lover, create a directory called "My Ebooks" on your desktop. In Windows, there's already a directory called "My Ebooks" under My Documents, so that should be a good place to start if you have no idea where to place your ebooks.
Beyond this point, you can either categorically arrange your ebooks by creating subdirectories under your main "My Ebooks" directory based on the genre of the ebooks you have. If you're a fiction lover, subdirectories under Mystery, Horror, Sci-Fi, Romance, etc. should do the trick. One other option you can categorize you ebooks is to create directories based on the site which you've downloaded the ebook from. If it's from Lulu, create a Lulu directory, so on and so forth.
These 2 other softwares will also help you in managing your ebooks, but the basics need to be done first from the few steps above. Let's get on with the softwares.
1. ZOTERO – https://www.zotero.org/
In short, Zotero is a free Firefox web browser extension that aids you in collecting, managing and citing your research sources. All happens in your web browser itself. There are tones of features for this extension but a few of them which deserve some attention are (as you may have guessed) ebook related. Some of the features that you might find interesting are:-
Create a mini library on your computer;
Store PDFs, images and web pages;
Take rich-text notes in any language;
Access your library from anywhere, even when you're offline;
Automatically grab metadata for PDFs;
Instantly search your PDFs and notes;
Advanced search and data mining tools;
And many more …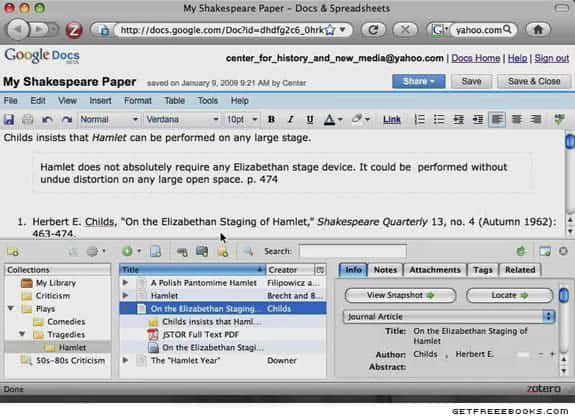 The basic idea behind this extension is to use Zotero as your "ebook download manager" instead of your default browser download manager. It saves any ebooks to your computer in your Firefox Profile directory for offline viewing. Create a brief description and enter tags for your downloaded ebooks. Being a ebook manager, I believe this extension can be used to download ebooks in other formats as well. There is a video at the homepage showing you how Zotero works and 2 more videos once you have it installed, so you have ample instructions and idea on how to start working on it. There might be a lot of ways but from our end, you can access Zotero from your Firefox by clicking on the icon at your bottom right, from the menu (Tools – Zotero) or simply by right clicking an ebook download link and select "Save Link as Zotero Snapshot".
Check out this extension by clicking on the link below:-
https://www.zotero.org/
2. ALFA EBOOKS MANAGER – https://alfaebooks.com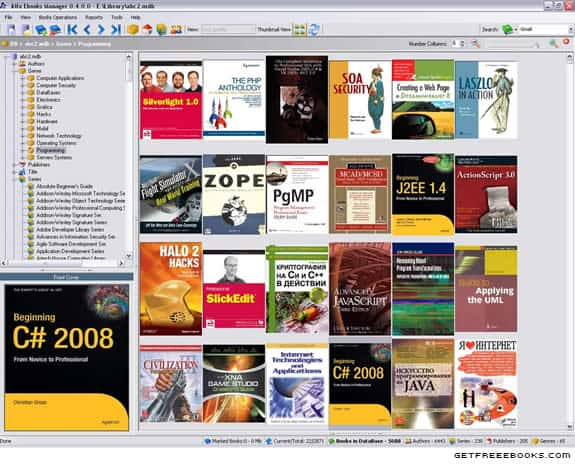 The official website for Alfa Ebooks Manager has a better description of what this software does and did a good job with it, so I'll just summarize it using the points taken directly from the site. Alfa Ebooks Manager is the program for making the personal catalog of e-books. Alfa Ebooks Manager helps you to:-
catalogue ebooks on your hard drive quickly and easy;
get information about ebooks from the internet and save it in the base;
calculate true number and summary size of all ebooks files in your collection;
record a part of your collection on a CD/DVD and note down this CD/DVD in the catalog;
find all ebooks files on your hard drive by scanning;
specify books data such as name, second name, authors, data of edition, ISBN, language, cover and others.
Their documentation page is pretty helpful with a screenshot with an interface description, as well as a video lesson. If you would like to see this piece of software in action, this video would be a good starting point.
Download this free software by clicking on the link below:-
Alfa Ebooks Manager (4.87MB)