10 Free Ebooks Compilation – November 2020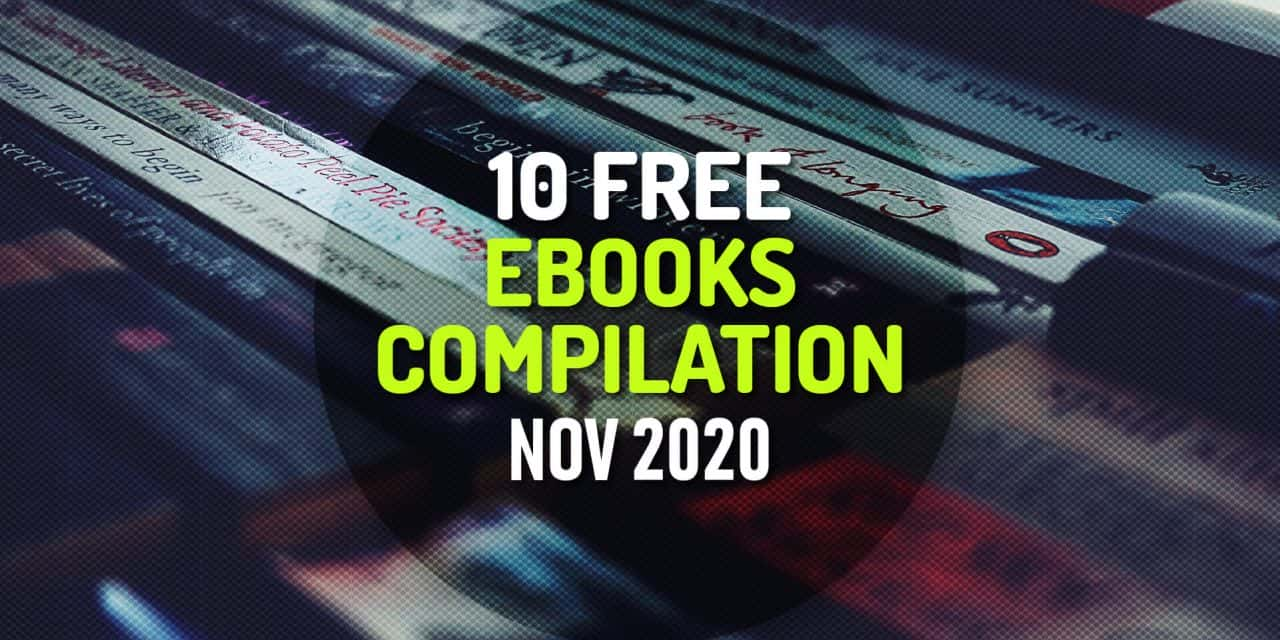 We will be compiling free legal ebooks from time to time and will be publishing them in this format so that you'll be able to view and pick all within a page. Individual / single ebook postings will continue based on quality as well as if it provides clear and simple direct downloads for interested readers. In this post we've covered 10 free ebooks from different categories and genres. Do take note that all titles are free at the time of posting and may be taken down by their respective authors without any prior warnings. If you by any chance encounter any dead-links, feel free to get in touch with us to let us know. Most of the links provide direct downloads but we will let you know if certain titles require registration or just your email.
If you wish to submit your own ebooks, feel free to post your ebook(s) at our Facebook Group, and we will pick it up from there. Feel free to share any other free ebook resources that are worth mentioning as well.
The Dermis Probe
Idries Shah
A serious, yet entertaining, look at the impediments in current thought which prevent certain forms of understanding between people. The title story was made into an award-winning film with script by Idries Shah, and chosen as an Outstanding Film of the Year.
The Dermis Probe comprises a collection of extracts from the written and oral tradition of Eastern thinkers. In his preface, Shah notes, 'In this book you can find illustrated some of the peculiarities of thought in the country which is today's world, seen by its inhabitants and by those who call themselves visitors.'
The Stone Child
Matthew Francis
'The Stone Child' is a tie-in with my (unpublished novel) The Hole in the World, so it takes place in the same world and has two of the same characters. However, you don't need to read the novel to understand what's going on here (which is good, 'cause you can't read The Hole in the World yet). You can read a bit about the world in these two previous blog posts: 'Using science to imagine a fantasy world' and 'Why set a fantasy novel on another planet?
The plot concerns Mik-Lam, a young person with a helpful reputation, who suddenly finds emself confronted with a situation where there might not be anyone who can help: an invader from the Nightmare World who seems to hold power over minds and death itself. [Possible content warnings: a parent near death, two brief scenes involving gender-related bigotry, parasitic fungi.]
The Developer's Guide to Azure
Chris Pietschmann
In the latest update to the Developer's Guide to Azure, learn how to get up and running on any project in minutes with fully configured, secure, cloud-hosted development environments.
Discover how to get the most from key Azure services to help your organization adapt to rapidly changing business needs. This book is a great jumpstart to your journey as an Azure Developer or Azure Architect working to create websites, databases, Internet of Things (IoT) solutions, and so much more!
Free Times Table Posters
Wordpip
All the colourful printable times table posters in one book or download each table individually. All times table from 2 to 12 are provided for free, even in reversed order. Feel free to use them at your home with your children or in your classrooms as a teacher. Alternatively, you can print them and paste them on the wall for constant reference.
Wordpip also has other variety of downloadable materials under their downloads page, so feel free to browse their site and download them to your heart's content. Some of the content include challenges, tips, tick sheets, posters and fun things to make. Enjoy!
Banking on Anxiety
Behaviour 101
Looking for some ideas to support children with anxiety returning to school? Here's a free eBook with strategies you may find useful. With children having missed a significant portion of the year in school and coronavirus dominating the media and household conversations, there is a chance that children may be feeling anxious about returning to the classroom.
Valuable content is abundant out there for teacher, parents and children to support them in their return and I've written my own contribution to this cause. My eBook Banking on Anxiety includes a lens through which to view anxiety alongside strategies that may help teachers and parents prevent minor anxieties from becoming bigger ones with early intervention.
Dr Jekyll and Mr Hyde
Robert Louis Stevenson (MPowered Project)
Robert Louis Stevenson's masterpiece of the duality of good and evil in man's nature sprang from the darkest recesses of his own unconscious—during a nightmare from which his wife awakened him, alerted by his screams.
More than a hundred years later, this tale of the mild-mannered Dr Jekyll and the drug that unleashes his evil, inner persona—the loathsome, twisted Mr Hyde—has lost none of its ability to shock.
Its realistic police-style narrative chillingly relates Jekyll's desperation as Hyde gains control of his soul—and gives voice to our own fears of the violence and evil within us.
The Wendigo
Algernon Blackwood
Algernon Blackwood's classic tale, The Wendigo, is an influential novella by one of the best-known writers of fantasy and horror, set in a place and time Blackwood knew well.
It tells the story of a camping trip in the Canadian wilderness that goes horribly wrong when the hunters become the hunted. Drawing on the mythical creature known as the Wendigo, this story is regarded by many critics to be one of the best horror tales of all time.
Geeks Digest
Geeks for Geeks
GeeksforGeeks was born out of necessity – a need to provide a convenient and one-stop educational portal to all the students of Computer Science. This necessity was as personal to me as it was universal. This need combined with my passion for teaching resulted in GeeksforGeeks as we know today. My message to you, in our inaugural edition of Geeks Digest, would be that if you are looking for a problem to work on, you don't need to look very far for it. All you should do is to look around yourself.
The best of content served at the convenience of your fingertips. Lay your hands on the top monthly handpicked articles, trending industry news, expert career advice and a lot of fun and rewarding activities in our small & convenient newsletter!
The Monkey's Paw, and Other Macabre Tales
W.W. Jacobs
Many people have encountered the story The Monkey's Paw, anthologised nearly 70 times in horror collections alone. Most do not know, however, that its author, W.W. Jacobs, was an immensely popular writer from the 1890s through the Second World War, selling many tens of thousands of copies of his 13 short story collections. His craftsmanship was admired by such authors as G.K. Chesterton and Evelyn Waugh.
Jacobs mostly wrote humorous short stories about humble seafaring folk, but The Monkey's Paw is by no means his only tale of the macabre. This collection contains 7 stories with subjects including haunted houses, vengeful ghosts, and guilty murderers.
AfterLife
Sara Ferrando Estarlich
It's a supernatural fantasy, I wrote it when I was 15 and my parents self-published it (I did not want them to do that but they ignored me). The book is about a family who moves into a house where a ghost couple lives. But it's not horror, not at all. Plus, I don't think there's an obvious plot, the plot only manifests itself towards the end. You can split it, I initially wrote it as a series of short stories.
Possible things that may turn you off, or that you may like: more dialogue than narration, a few LGBT+ characters, an overarching mystery of sorts and 'light incest'. I always get carried away with plots and characters, so what seems like a small story is definitely going to explode towards the end.
As for me, I'm a girl from Spain with unusually good self-taught English skills. I cannot write in my own language, and I have zero control over my own hyperactive imagination, meaning my characters basically control everything.
Watch videos about books, reading and writing. Expect weird, amazing, never known before facts and many more.
INTERNET / DIGITAL MARKETING HUB
Download free Internet Marketing Ebooks, comprehensive tips & tricks and informative infographics.