About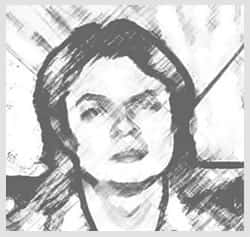 Welcome to GetFreeEbooks.com, a site that brings both authors and readers into the world of free ebooks. Authors with their free ebooks will benefit greatly from the large community of readers and the readers will in return, of course, will have lots of materials to read to their hearts' content.
My name is John Eye and I'm obssessed with ebooks, loves to procrastinate, a bookworm and one that loves to share with the world what free ebooks have to offer.
History of GetFreeEbooks.com
It started out small, with a number of ebook collections, mainly focused on the internet marketing category. Surprisingly it grew at a moderately amazing rate, but to a certain extent, it was giving out a feeling that it wasn't enough. The topic in mind was too specific and I was sure that free ebooks can be covered in a much general and bigger way. And that's how GetFreeEbooks got its content today.
Surely it had its own ups and downs, technical glitches, hosting issues, submission overloads and others, but thanks to all of your support, we have reached a level of what you're seeing today – Great readers, great authors and most importantly a great community that shares.
GetFreeEbooks Objectives
What do we do?
To create a central hub / directory of free legal ebooks from various genres and categories, not limited to hosting them, but to link, providing resources and other useful information for both authors and readers, anything closely related to ebooks.
To provide tips, tricks, resources and strategies on how authors and readers can utilize various tools out there to enhance their writing and reading tasks.
To create a community with SIMPLICITY in mind. Meaning, minimizing registrations before downloading (zero registration is my main objective). You only need to click and download to start reading.
To filter out free ebooks with too much commercial content in order to maintain the highest quality of information. We aim to only list full fledge, complete standalone ebooks which do not require readers to indulge in other external activities / sources, to acquire knowledge they're searching for. Maybe it's only possible in a perfect world, but perhaps an ebook that starts and ends on its own. Convenience and top notch content is our priority.
Stay Up to Date with GetFreeEbooks
Get the latest updates …
You can stay in touch with our latest updates through various ways:-
This site itself.
Subscribe to our RSS Feeds (We will email you anytime there's an update. No update, no email.)
How to subscribe? Check out the subscribe box at the top right of the site.
Are You An Author?
Let's Get Acquainted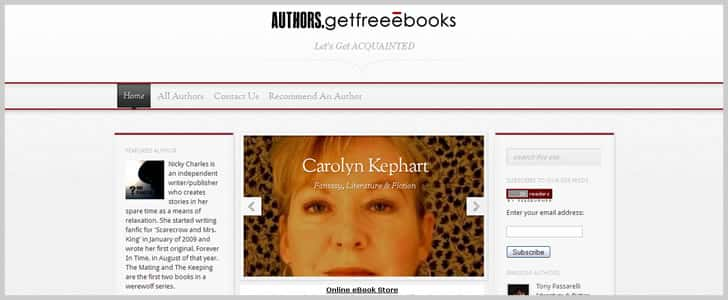 If you wish to submit your free ebook to us, please visit our submission page and follow the instructions. Depending on the volume of submissions that we receive, the time we take to process your submissions will vary. Your patience and understanding in this matter is appreciated.
As an author, you may also submit your details as an author to our dedicated AUTHOR's page at http://Authors.Getfreeebooks.com. As readers ourselves, more often than not we want to get to know the author(s) in greater details, hence why this section is created, solely for this purpose. We greatly support authors who spent countless hours writing free ebooks for all of us to enjoy, and it's only fair that they get the exposure they deserve.
You're an author?
Click here to submit your details!
Other ways you can stay up to date with the latest happenings at AUTHORS:-
Get Free Internet Marketing Ebooks
http://www.getfreeIMebooks.com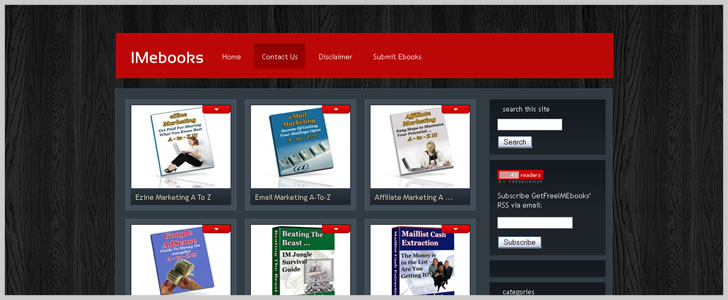 As the number of submissions from this category increase at extreme and significant proportions, we at GetFreeEbooks.com have decided that it's only fair for us to create a brand new site, dedicated just for these ebooks, totally free. Internet Marketing is one of the biggest niches in the World Wide Web today, and we believe by putting such a site, we hope that we can help everybody who's in this field to promote their free ebooks to the rest to read.
Do you have free Internet Marketing Ebooks to submit?
Click here to submit yours!
Other ways you can stay up to date with the latest happenings at GetFreeIMEbooks.com:-
Disclaimer
All the ebooks within this site are legal downloadable free ebooks. If you're the owner / author of any of the ebooks listed within this site and wish them to be removed, do let us know and we will remove it immediately.
With the increasing number of ebooks on this site, we're unable to monitor all download links. Rest assured all the ebooks are FREE when posted. Some authors might change their mind and stop making their ebooks free at a later date. Having said that, if you encounter any dead links or a link which points to a site that requires you to buy instead of a free ebook, do let us know by contacting us from the contact us page.
If you wish to submit your ebooks for listing over here, you can know more on how to do that by clicking here.
Enjoy your stay at Getfreeebooks.com!