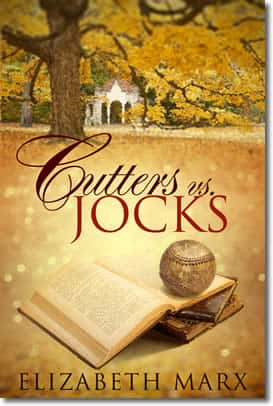 Cutters Vs. Jocks
by Elizabeth Marx
On the idyllic campus of Indiana University, Little-Libby-Nobody runs into Band-Aid All-American-Athlete, and fireworks explode. Libby and Aidan spiral into a collision course of love at first sight versus lust you can't fight. As the game plays out and their affection grows, they soon realize that labels like cutters and jocks can't keep them apart.
But when Libby and Aidan find themselves in trouble they have to confront the reality of where they each fit in the others' world. Libby believes superstar jocks don't take cutters to Rose Well House, in the center of campus, at midnight and pledge their undying devotion beneath its sparkling dome. And Band-Aid imagines there's no place for a pregnant, small-town waitress in his bull-pen or the major leagues. What happens when worthy opponents refuse to play their hearts out?
Click on the link below to start downloading this free ebook:-
Cutters Vs. Jocks – 140 pages, 640 KB (EPUB, Kindle, MOBI, PDF, HTML, LRF, PDB, TXT)
Items posted here are free at the time of posting. If you find they are no longer free, kindly notify us immediately through our contact form.
What's Next?
Subscribe Getfreebooks via email: