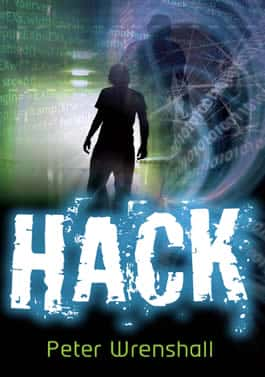 Hack
by Peter Wrenshall
In his gripping new Young Adult novel, Hack, Peter Wrenshall gets at the heart and soul of the teenage computer criminal. Karl Ripley is lonely and isolated. His mother works the late shift at the local casino, and to while away the time, he begins to hack into other people's computers. At first it's fun and exciting, and by the time he's sixteen, he breaks into the Pentagon computers, an act that the FBI calls the biggest military hack ever. But then Karl's friend turns him in, an act of betrayal that has Karl obsessed with revenge.
Two days before his release from prison, Karl is offered a job by the FBI. They want him to be bait for a terrorist who is recruiting young hackers to steal important state secrets. Karl begins to juggle his FBI undercover work, and his plot to get even with his friend, and all seems to be working until he meets and falls for a young woman. But is she what she seems to be? As Karl wrestles with his old life of crime and his desire for happiness with this woman, he discovers that his life is in danger.
Click on the link below to download this free ebook:-
Hack (PDF)
What's Next?
Subscribe Getfreebooks via email: