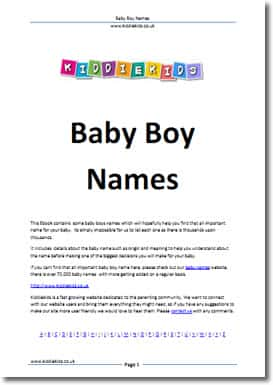 Baby Names (Baby Boy Names)
by Lee Suggitt
Find that all important baby name with kiddiekids. Access a selection of baby boy names that we have listed on our website.
Click on the link below to start downloading this free ebook:-
Baby Names (Baby Boy Names) – 28 pages, 1.21MB (PDF)
Items posted here are free at the time of posting. If you find they are no longer free, kindly notify us immediately through our contact form.
What's Next?
Subscribe Getfreebooks via email: