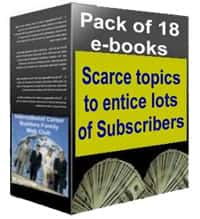 Pack Of Eighteen Gratis Niche E-Books
by Pierre Du Plessis
Kayaking, Paintball for beginners, Snowboarding, Backyard Activities, After School Activities, Marksmanship Manual for Rifles and Handguns, Family Fishing, Hunting, Brewer's Recipes, Study Loans for Students, Mountain Biking for Fitness and Family Fun, Beat the Casinos All-in-one Guide – systems for Casino, Bingo, Craps, Blackjack, Lotteries, Poker, Roulette, Slots and Horse Racing, Amsterdam Travel Guide, Caribbean Vacations, Travel Guide for Nine Continents, Ski Vacations, Old-time Formulas, Remedies and Recipes, Travel Tips to twenty five European Countries.
Click on the link below to download these free ebooks:-
Pack Of 18 Gratis Niche E-Books (PDF) – 8MB (Right click & save)
Also visit Pierre's site by clicking here, there are more free ebooks to be downloaded.
What's Next?
Subscribe Getfreebooks via email: