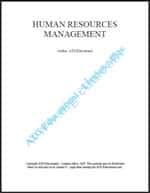 Human Resources Management
by ATG Educational
http://www.free-courses.us/
This is an entry-level Human Resources Management course from ATG Educational created with the purpose of offering an insight into the work of Human Resources professionals in most of today's organizations. The course will take the reader all the way from a general perspective on Human Resources Management to specific concepts as performance management and staff development while ensuring that every aspect is presented in a friendly language, with all specific terms clearly explained in order for the reader to understand the concepts regardless of the level of previous HR experience. All concepts are illustrated and packed with practical advice so even an experienced HR professional could find useful information.
The course was developed by a team of specialists from ATG Educational – London Office who – by the use of inter-disciplinary co-operation – managed to deliver not only a professionally rich content but also an interesting and easy to understand text.
Sorry, this ebook is no longer available (Website down).