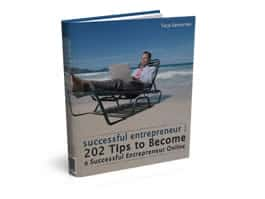 202 Tips to Become a Successful Entrepreneur Online
by Terje Sannarnes
It is not a surprise that a lot of people think about possessing their own online business to become a successful entrepreneur. Even if you have already launched a web project, just be sure that it is very important to manage it properly. In this e-book I would like to give you 202 tips for an upcoming entrepreneur. It is very important to take into consideration all these recommendations to avoid various difficulties in the future. Hope that my instructions will be helpful both for beginning and experienced online entrepreneurs! So, lets start!
Click on the link below to start downloading this free ebook:-
202 Tips to Become a Successful Entrepreneur Online – 25 pages, 867KB (PDF)
For more Free Internet Marketing Ebooks, visit (GetFreeIMEbooks.com)
Items posted here are free at the time of posting. If you find they are no longer free, kindly notify us immediately through our contact form.