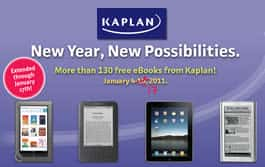 132 Free Ebooks from Kaplan
by FreeKaplanEbooks.com
This offer has been floating around since 4th of January this year, so I think we're quite late in covering this up. Nonetheless the good news is that the offer was extended till 17th of January, so you still have a couple of days to get your free ebooks. Their range of ebooks are supported by most of the popular reading devices out there, namely Barnes & Nooble NOOK, Amazon Kindle, Apple Ipad & Sony eReader. They do provide great step by step instructions on how to get these free ebooks to your devices, so no worries there. The layout of their site is pretty well laid out, giving users direct options on where to go and how to proceed.
Among the categories covered in this list of ebooks, include:-
College (27)
Education (21)
Graduate (22)
Legal (16)
Medicine (31)
Nursing (15)
For the list of free ebooks offered – CLICK HERE.
To start downloading, click on the link below:-
132 Free Ebooks from Kaplan (Hurry! Offer ends 17th January 2011)