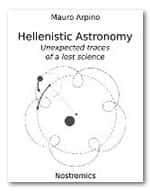 Hellenistic Astronomy – Unexpected traces of a lost science
by Mauro Arpino
The book tells the history and major contributions of Hellenistic astronomy and science between the 4th and 1st century BC, from Eudoxus of Cnidus to Hipparchus.Of all research by Hellenistic astronomers, only two minor works survived. Very little is known about this age, after which all their activity ended. Only through very recent investigations on ancient artifacts like the so called Antikythera mechanism, and the analysis of classical literary records, we may try to better understand this fascinating civilization.The book covers the library of Alexandria, Erathosthenes' measurement of the Earth's circumference, the retrograde motion of the planets, heliocentrism, the Antikythera mechanism, Hipparchus and the precession of the equinoxes, computing tools and techniques, the loss of Hellenistic knowledge, and more.The author, Mauro Arpino, is an astronomy and science educator and works for the Planetarium of Milan, Italy. Hellenistic Astronomy collects some of the material he covers in his planetarium lessons for schools.
Sorry, this ebook is no longer available.