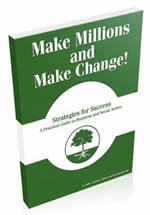 Mike Mann's new eBook Make Millions and Make Change! is a light read, absolutely free and may provide valuable content for readers.
Make Millions and Make Change! documents successful strategies aimed to help and advise you on how to make millions in your business of choice. Then, given your newfound success, our hope is that you will benefit others by contributing extra time and money to your favorite causes. Whether you want to take on global industries or just improve your corner store, this book provides profitable strategies for any business. Good business methodology does not need to be reinvented every day, just improved upon.
Click on the link below to download this ebook:-
Make Millions and Make Change! (PDF) or read chapter by chapter here.