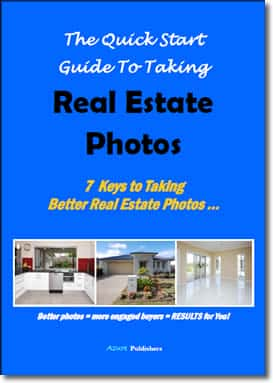 The Quick Start Guide To Taking Real Estate Photos – 7 Keys To Taking Better Real Estate Photos
by Azure Publishers
Have you ever wondered how the Professional Real Estate Photographers get their results?
Do you want to produce great looking photos but are not sure where to start?
Well, don't worry if you aren't an experienced photographer… This NEW easy-to-follow free book is designed especially for you,to help you take photos that look great! Now that close to 90% of buyers are looking on the internet to find a property to purchase, it is very important to know how to take good quality photos. They are all important to your marketing and, in particular, on the internet.
So take photos that will get your buyers interested! This book is written by an experienced and successful Professional Property Photographer/Business Owner with more than 5 years experience (and over 1,000 paid photo shoots). All that experience goes into making this book easy to follow – complete with step-by-step instructions and plenty of photos especially designed to help you achieve great shots.
This book is offered for free as a guide to help you get started with taking better Real Estate Photos. Hope you enjoy it.

Click on the link below to start downloading this free ebook:-
The Quick Start Guide To Taking Real Estate Photos – 7 Keys To Taking Better Real Estate Photos – 21 pages, 4.44 MB (PDF)
Items posted here are free at the time of posting. If you find they are no longer free, kindly notify us immediately through our contact form.