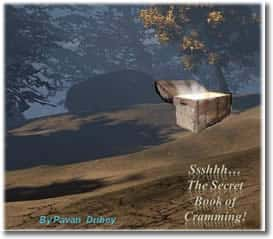 Ssshhh… The Secret Book of Cramming!
by Pavan Dubey
So the date is set, yeah the exam date.
It's been a long time since you pampered the first page of your subject, busy in partying and enjoying collage/school life, now you think about stuffs to fill that monster sheet, blaming your self why the hell I wasted my time goofing here and there.
If that's the case, just chill out because you are going to bust the exams while living the life you have imagined,so hips tight, eyes focused, pizza's aside and BANG ON…
Click on the link below to start downloading this free ebook:-
Ssshhh… The Secret Book of Cramming! – 19 pages, 814 KB (PDF)
Items posted here are free at the time of posting. If you find they are no longer free, kindly notify us immediately through our contact form.